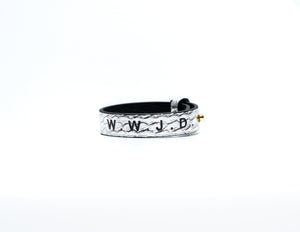 LE GRAND HEIRS
Le GRAND HEIRS 'PRAYING HANDS' PYTHON BRACELET - "Chrome / Black" Colorway
Sale price Price $ 133.33 Regular price Unit price / per
Tax included.
Our Contemporary Luxury take on the classic traditional W.W.J.D. bracelet that has been worn by many for decades including Kanye West, Allen Iverson, Justin Bieber, Lebron James and more. A perfect symbol of salvation to carry with/on you everyday.
Handmade in Northern Italy in our new Chrome (& Black) colorways - our genuine Python bracelet with W.W.J.D embossing, genuine leather backing & 18 kt gold plated ball clasp (adjustable to two size fits - small/medium, medium/large). 
Le GRAND HEIRS Permanent Commission - Enjoy!
Scroll down for additional images.